Well, my Saturday didn't go anything like I had planned. Not really a surprise, but I did a get lot of something accomplished. The arrangement of where my computer was in my apartment was making me a little crazy. It was sort of the first thing that you saw when you walked in. I don't like a lot of open clutter, I'm fine with concealed clutter. LOL! So I went to IKEA with Taylor and got a new desk, file cabinet and bookcase. We had some lunch there too, Swedish meatballs with mashed potatoes and lingonberry sauce. YUM! I haven't had that in such a long time! Have you ever had the Swedish meatballs from IKEA?! They are DELICIOUS! I came back home and put together the new furniture and then got rearranging and some more purging. My sister-in-law is going to take my old desk which is good because it's a nice glass and metal one. I do feel much better now that the desk is in the living room and most of the clutter is contained when you first walk in. Not what I had planned but I'm glad that it's done! What were you up to yesterday?!
After I got done with all of that, furniture assembly is somewhat tiring, I sat down and started to make a card. I had misplaced my container that had all of my extra pieces that I have cut out with my e-cutter but in my rearranging I found them! Today's card uses all e-cutter goodies and no stamping! Gasp! My card begins with a base of Kraft Card Stock. I choose some Pool Party for my background and I put a strip of Washi Tape from the Everyday Adventure Project Life Accessory Pack across the bottom. Under that is a piece of adhesive cork, my fave! The hexagons are made from Baked Brown Sugar with the Hexagon Punch Digital Download, I cut out the outline omitting the inside. My feather is from the Feathered Woodcuts Kit Digital Download cut from some Bermuda Bay. For my greeting is used Coastal Cabana and the Moments Ago Stamp Brush Set. I brushed some of my Shimmer Aqua Painter concoction over it before adhering it to the cork. A nice fun mailable card that will make it's way to brighten someone's day! I do enjoy using my e-cutter and the cork, well we know how I feel about that! LOL! I hope that you enjoyed my quick card for today. I thank you for sharing in my day and stopping by top see what I have been up to in the Stampin' Galley! Have a super Sunday my friends! 🙂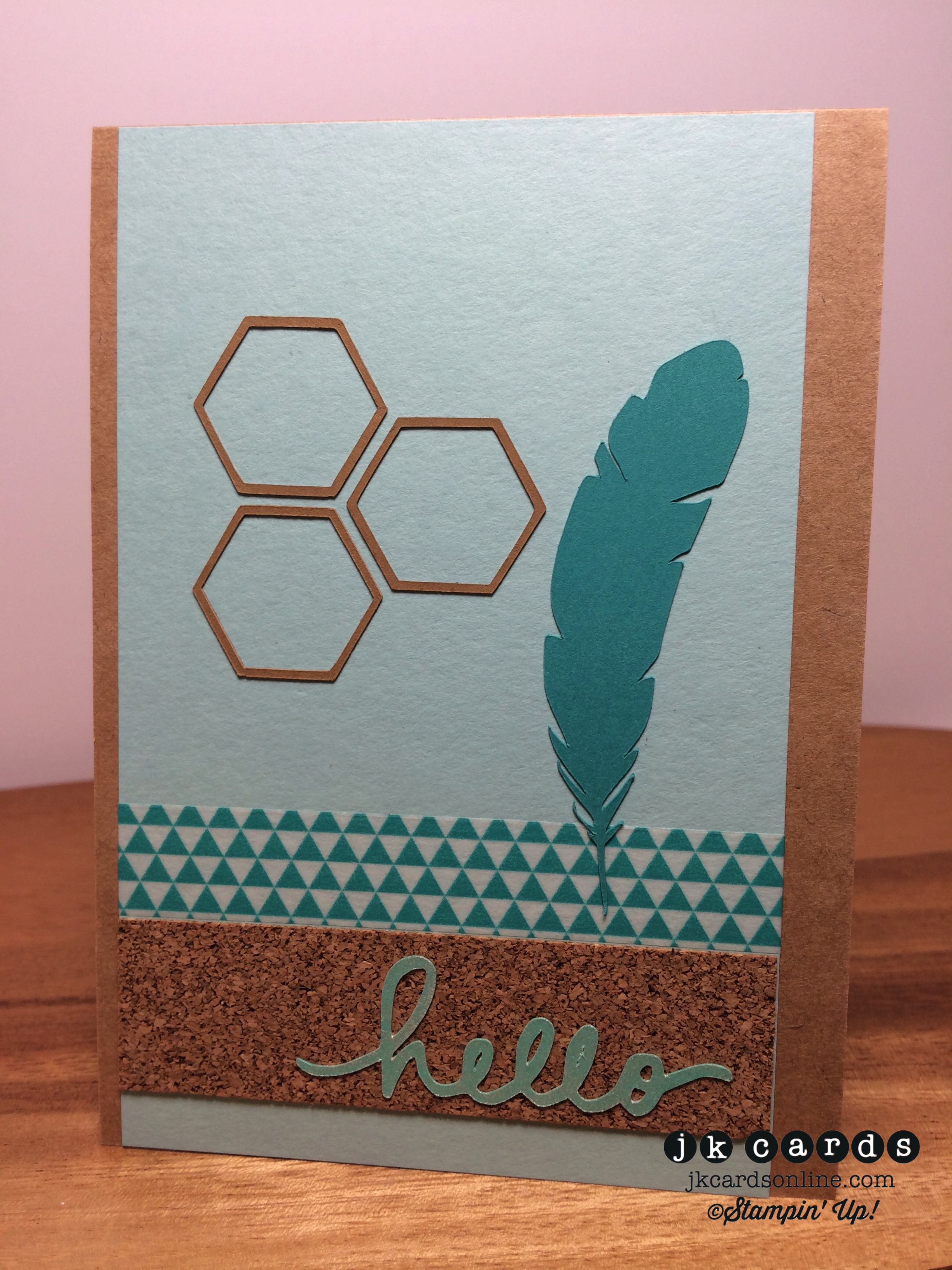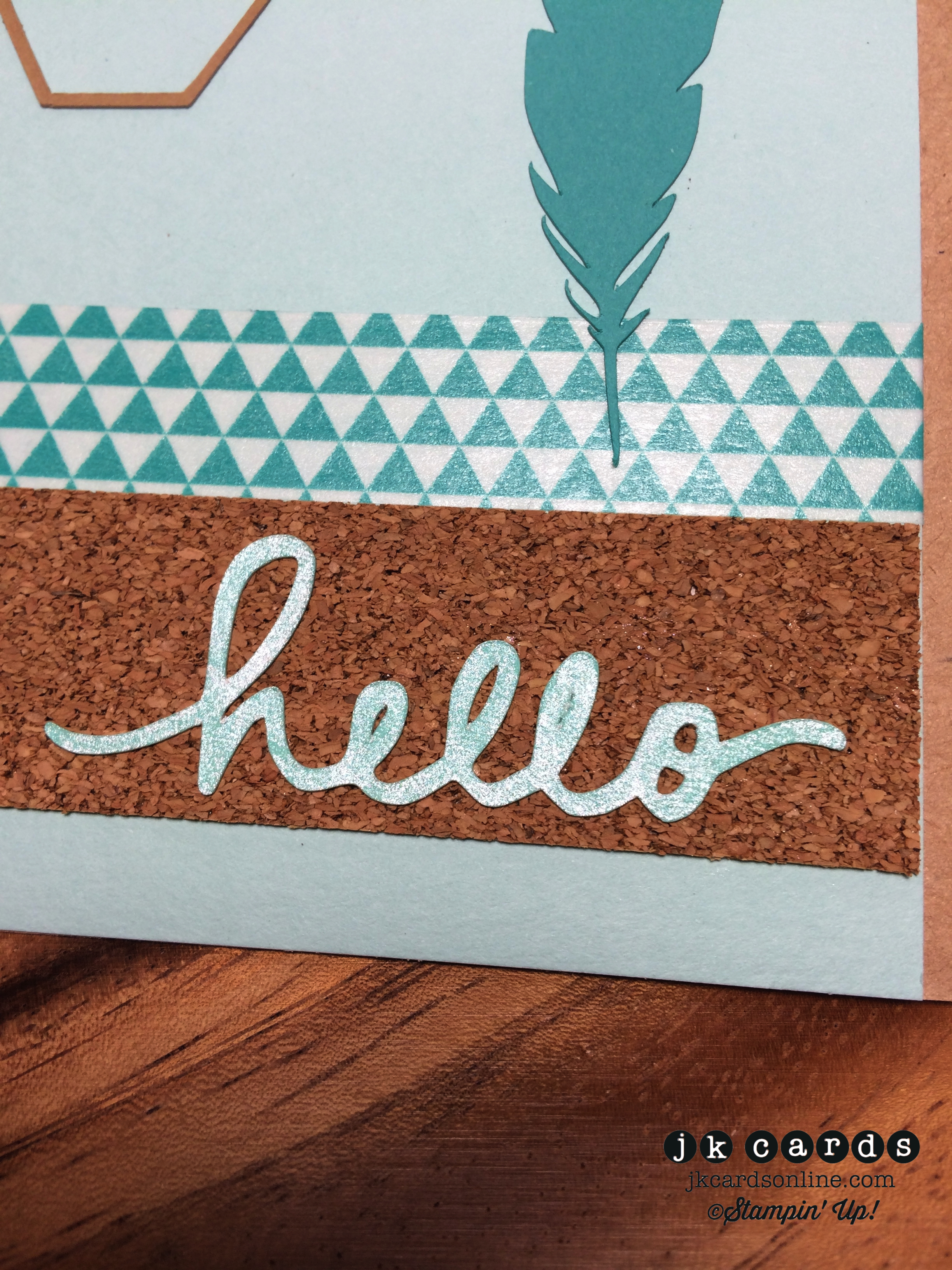 Stampin' Up! products used:
Stamps: none!
Ink: none!
My Digital Studio: Hexagon Punch Digital Download, Feathered Woodcuts Kit Digital Download and Moments Ago Stamp Brush Set
Card Stock: Pool Party, Baked Brown Sugar and Coastal Cabana
Specialty Card Stock: Kraft
Embellishments: Washi Tape from Everyday Adventure Project Life Accessory Pack
Tools: 2-Way Glue, Multi-Purpose Glue and SNAIL
NON Stampin' Up!: E-Cutter and Adhesive Cork
Current Promotions:
The 2014-2015 Annual Catalog is here!! Get your lists ready and place your orders!!
With our personalized stamps you can create a cool address label or even use it for everything from marking your territory on books or other belongings to having a fun way to give a personal touch to gifts and goodies. Click HERE for a PDF of the flyer.
It's here! The 2014 Occasions Catalog is ready for you to place your order! It's packed with fun trendy products and quick kits! Click on the image in the sidebar and place your order today!
Need some cards quicky? Stampin' Up! has a brand new kit that allows you to create 20 cards, all you need is some adhesive and you're all set. Click here for the Everyday Occasion Card Kit!
Make your own stamp! New Undefined stamp carving kit. Available now! Click here for the PDF.
Check out all of the Photopolymer Stamp Sets! The newest sets are Dear Heart and Christmas Bliss. It's a completely clear stamping option you are going to love!